Chateau Les Landes, holidays prestigious rental in Dordogne Perigord

Right in the heart of the Perigord region, the castle Les Landes offers you its 80 hectares of wallnut trees, the sweetness of an afternoon spent on the bank of the swimming pool or walking in the property.

The Castle Les Landes is perfect for 14 to 18 people and can be rented for :
Kick back and enjoy the region:
An array of activities are available on demand, such as castles visits, "bastides", wine tasting ...

Kick back and enjoy a little sport:
The region is well suited for activities like biking/hiking, kayaking, hunting, golf, tennis ... Ideal to organise "stages".

Kick back and relax :
To stressed ? In need of a place where you could, for a while, change your mental and physical habits ?

Shoot externals and/or prises de vue
The Castle Les Landes is available for filming purposes with its yard, parc and pigeons'shed, its old style kitchens and living-rooms.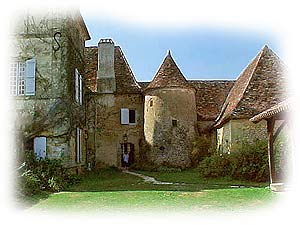 See more pictures
Check our tariffs
Contact us